Cabeceras Aid Project
---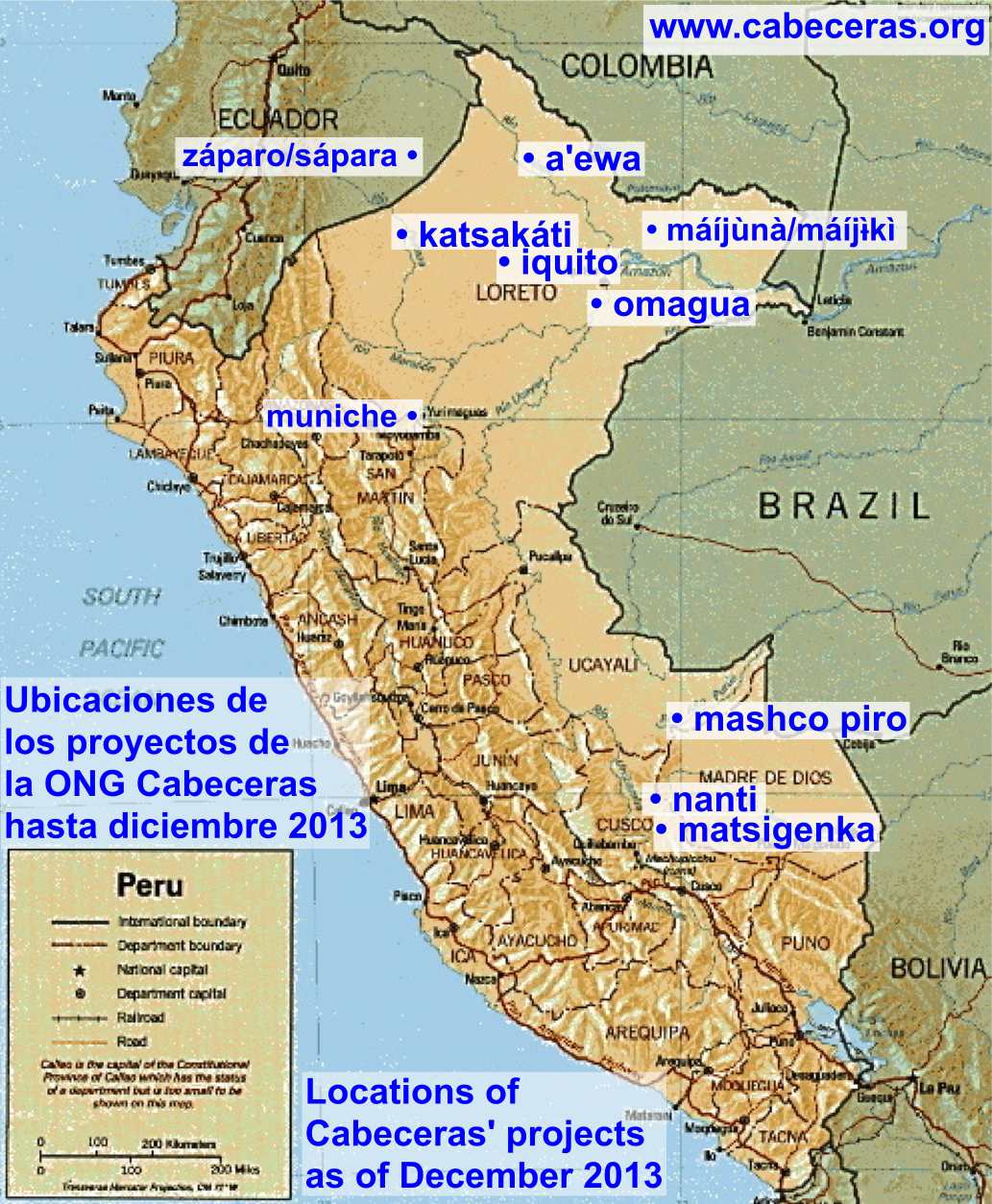 Dear Friends of Cabeceras Aid Project,
It is a pleasure to write to you once again to update you on Cabeceras' latest activities. But first and foremost, I would like to say thank you for your ongoing support of our organization over the years. We are, and always will be, a small-scale organization, whose modest but clear goals are brought to life by a small team of volunteers, using a small but carefully-spent budget. All of our work is heartfelt — as is our gratitude to every one of our donors and supporters. I am honored to thank you one more time for being a part of Cabeceras.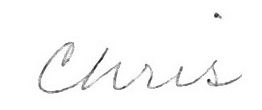 Christine Beier
Fieldworker, Secretary and Treasurer
A brief overview of our work and purpose
Since 1996, Cabeceras' fieldworkers have worked with, or on behalf of, Nanti, Iquito, Matsigenka, Máíhùnà, Omagua, Muniche, Mashco Piro, Katsakáti, A'ewa, and Sápara people and/or communities, through our humanitarian aid and research projects. We have taken on various types of field projects over the years, ranging from digging latrines and donating medical supplies to writing dictionaries and training community linguists. All of these activities have been rooted in Cabeceras' core mission to support activities and individuals that show promise for improving the social and physical health, fostering the cultural and linguistic survival, and generally nurturing the well-being and dignity, of small, under-served indigenous communities in Peruvian Amazonia.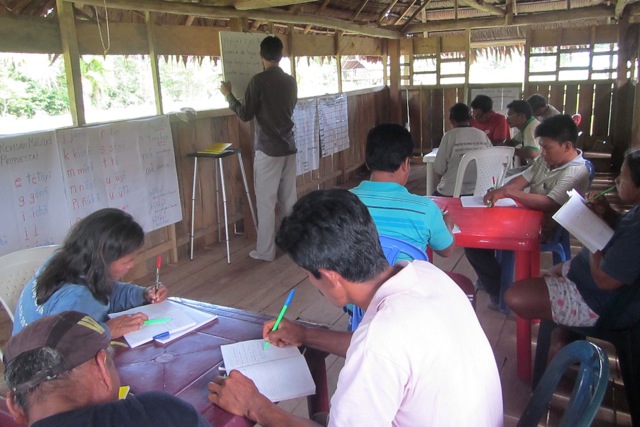 2013 projects
During 2013, Cabeceras continued to participate in various language documentation and revalorization efforts in Peruvian Amazonia, by providing logistical, infrastructural, and political support to project teams that are primarily funded by research grants. This strategy unites Cabeceras' mission of humanitarian community service with separately funded research projects, so that the financial costs actually incurred by Cabeceras in most of these field projects are modest. The focus of our fieldwork this year was the Máíhìkì Project (see below); we also continued our 'post-fieldwork' work on the Matsigenka, Iquito, and Záparo/Sápara Projects.

In addition, and no less importantly, we continued our advocacy work with other NGOs and governmental personnel on behalf of the Nanti people, with the goal of bolstering and improving the physical, social, and political well-being of the Nanti communities on the Camisea River in southeastern Peru.

The Máíhìkì Project (MP) has been the principal focus of our fieldwork since 2010. This team-based project — funded in large part by a National Science Foundation grant to Lev Michael through the University of California, Berkeley (Grant #BCS-1065621) — is based in Nueva Vida, one of the four Máíhùnà communities in Loreto, Peru. With about 100 speakers remaining, the language is highly endangered, but over the last decade, the Máíhùn&agrave people have made a strong commitment to language documentation and revalorization, and our collaboration with them has been very successful so far. This year's high points included holding the last of three intensive workshops in which we trained a group of 10 Máíhìkì speakers in the basics of language documentation and description (see photos above and below); making a second short movie in Máíhìkì, this time about the preparation of ayahuasca (click these links to see the first and second movies with English subtitles on YouTube); and Cabeceras making the donation of a much-needed communications radio to the community of Nueva Vida (see photos below).

It has been a pleasure, as well, to collaborate with and provide support to Amalia Skilton, who is doing important research on the Eastern and Northern dialects of Máíhìkì. Amalia was first part of our team in Nueva Vida in 2012. This year, after graduating with her BA from Yale in May, she joined us in Nueva Vida for two months, and then continued on with her own independent fieldwork as part of a year-long post-baccalaureate fellowship program (see photos below).

This year brought to a close the first phase of the MP, per the formal agreement between us and the Máíhùnà federation. Therefore, after four field seasons in a row working with larger teams of researchers, in 2014 Lev and I expect to return to Nueva Vida as a twosome, in order to take stock of the current situation and work out a new agreement with the federation and communities regarding our future work with them.
Constructing a radio room in Saúl's
new house in Nueva Vida.
Saúl learning how to
operate the new radio.
Amalia doing text transcription with Piri.
'Graduation day' after the third and
final workshop.
Looking forward to 2014
As mentioned above, Lev and I will return to Nueva Vida again in 2014, but our next visit will be a bit shorter than usual, so that we can make another trip first... back to San Antonio de Pintuyacu! At long last, Lev and I (along with two new graduate student team members) will be returning to San Antonio in June in order to do further fieldwork on the documentation of the Iquito language. As you may recall, the Iquito Project was a central focus of our fieldwork between 2002 and 2007, and we are excited to be able to return to this work once again, with the primary goal of producing many new materials in and on this language, for the benefit of community members, scholars, educators, and all other interested persons.

In addition, if logistically possible, I will meet with our two current Nathaniel Gerhart Memorial Scholarship recipients — Alex Rodríguez in Iquitos and Maribel Kaibi in Cusco — in order to continue to provide them personal support and mentorship as they continue their studies; see below for more details.
The Nathaniel Gerhart Memorial Scholarship Fund
Again in 2013, Cabeceras made our scholarship program a top priority, because right now this is the greatest opportunity we have to invest in a better future for a large number of indigenous communities in Amazonia. The Nathaniel Gerhart Memorial Scholarship Fund supports bilingual indigenous students in their post-secondary professional studies who have a vision (and a track record) of serving their own and/or other Amazonian indigenous communities through their professional activities. We continue to support two exceptional individuals: Alex Rodríguez Roque, a Bora man studying civil law in Iquitos; and Maribel Kaibi Omenki, a Matsigenka woman studying Nursing in Cusco.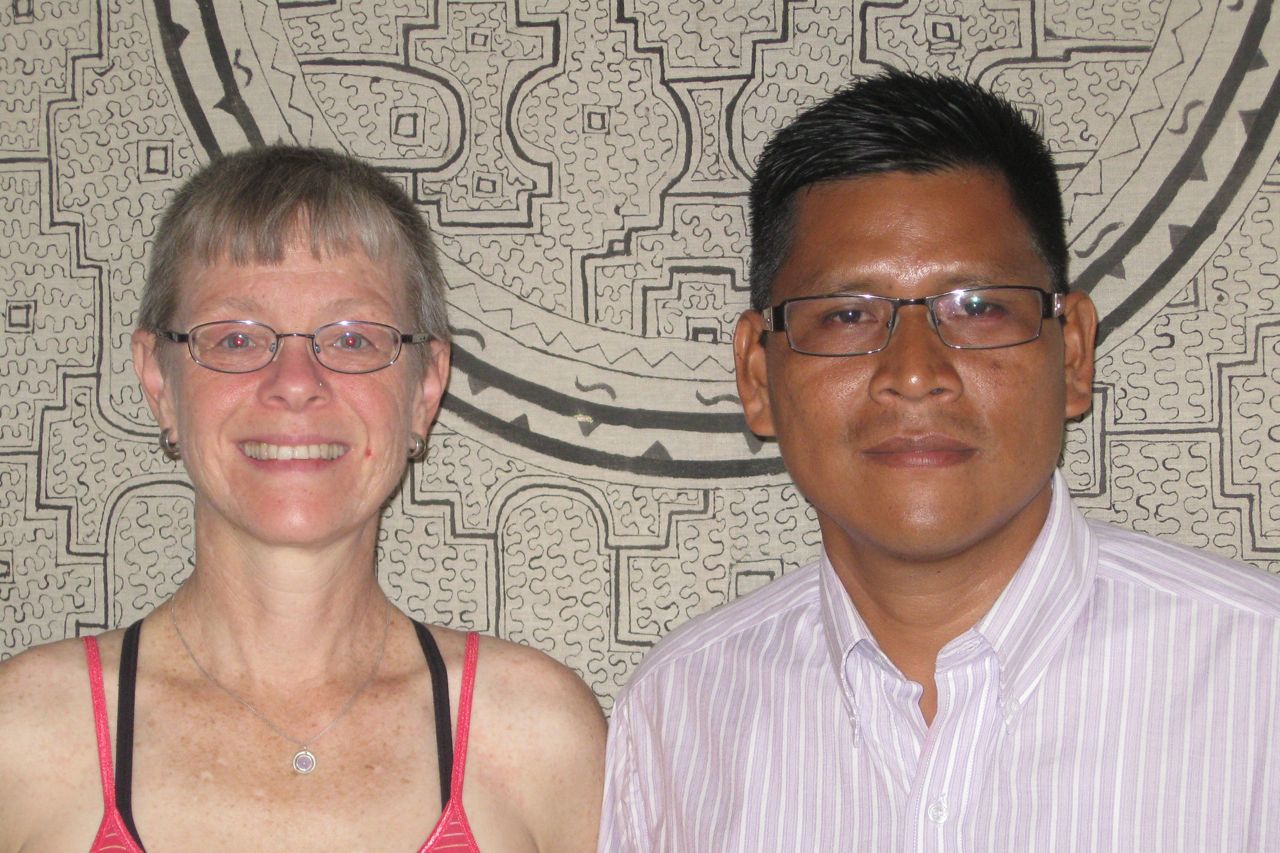 Alex Rodríguez Roque — pictured at right with Chris in Iquitos in June 2013 — is from the Bora community of Pucaurquillo in the Department of Loreto. He finished his coursework in Civil Law and Political Science in 2012 at ULADECH-Iquitos, and this year he has been working to fulfill the final requirements to obtain his Bachelor's degree. He chose the program at ULADECH-Iquitos in part because it includes the option to obtain his professional title as Abogado (lawyer) by writing a thesis, which will be the focus of studies in 2014. Throughout his studies, Alex has been working as a school teacher to support himself and his family; his scholarship from Cabeceras only covers his school-related costs. His concrete goal in becoming a lawyer is to be able to work defending and improving the civil rights of indigenous individuals and communities in Loreto. His unflagging dedication, patience, and humility impresses me time and again. A letter of thanks to you for your support (in Bora, Spanish, and English) is available here.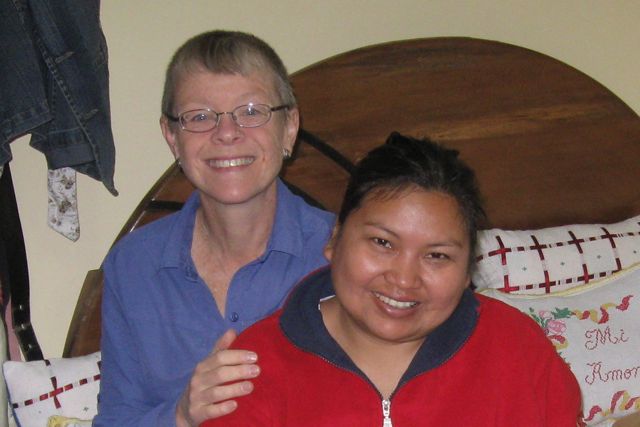 Maribel Kaibi Omenki — pictured at left with Chris in Cusco in June 2013 — is from the Matsigenka community of Koribeni in the Department of Cusco. She is continuing her coursework in the Nursing program at Universidad Andina in the city of Cusco. Maribel already has the professional title, and several years of work experience, as a 'Nurse Technician', so she is enjoying her Nursing courses as they build on her existing knowledge of healthcare. Because Maribel has already worked providing healthcare in geographically remote and under-served communities, she is well aware of how valuable her additional training will be when she returns to work as a nurse in Matsigenka communities. Like Alex, Maribel is hard-working, patient and humble, and it is an honor to accompany her on this journey through higher education. A letter of thanks to you from Maribel (in Matsigenka, Spanish, and English) is available here.

Although the monetary costs of higher education in Peru are in general much lower than in the United States, the complex social, economic, and logistical factors that indigenous students face are insurmountable for most individuals. Therefore, in addition to providing financial support, Cabeceras is providing personal mentorship to our awardees, so that they have reliable, unwavering social and moral support when they face the different kinds of challenges that arise as they continue their formal education. This means, among other things, that I maintain regular contact with our awardees through email, chat, and Skype; I provide practical guidance and skill-building regarding money and time management; I offer suggestions regarding the intricacies of university life and urban living; and I can generally be counted on to provide encouragement and a fresh point-of-view as often as necessary. Just as much as we expect a good-faith commitment from our awardees, we have made a multi-faceted commitment to them, to help each individual find his or her own path to success.

In light of the sizeable multi-year commitment that the scholarship program requires of Cabeceras, I would like to express special thanks to the Nathaniel Gerhart Memorial Fund in New York, and to Margo Minogue-Heyl and Bob Heyl in Houston, for their substantial support of the scholarship fund; and to Margo Minogue-Heyl for her indispensible administrative assistance!
Can you make a donation to our scholarship fund today?
As you may have noticed, I write to you just once a year, to let you know what our organization is doing, and to ask you to support us financially. I hope that this letter will renew your enthusiasm for our work, and inspire you to make a contribution to our scholarship fund. As always, Cabeceras has no paid staff and almost no overhead costs, so 100% of your donation will go to our scholarship students. Cabeceras is a 501(c)(3) organization, so your donation is tax-deductible. Our Tax ID number is: 74-2799387.
Thank you so much for your ongoing support!
Please send a check to:
Cabeceras Aid Project
5859 Braesheather Drive
Houston TX, 77096-3933

Or, make a secure donation though Network for Good:
(full disclosure: they charge either you or us a 5% fee)


MP team members Amalia Skilton (2012-13)
and Stephanie Farmer (2010-13)
hard at work in Nueva Vida.
MP team members Steph and Lizzie Goodrich
(2013) in Nueva Vida.

MP team members Lizzie and Chris
interviewing Hermelinda.
MP team members Amalia and Lev.
Community linguists Alberto, Rusber,
and Lindaura at the final workshop.
Community linguist (and Nueva Vida's
president) Liberato at the final workshop.

Lev working on the dictionary
database during the final workshop.
Amalia and Hermelinda working on a text.
Chris and Lev enjoying the trip to Nueva
Vida up the Napo River.
...but eventually, everybody gets sleepy.

Amalia and community linguists doing
dictionary work in the forest.
Lev doing dictionary work in the forest.
Chris at work in our kitchen in
Nueva Vida.
Jesusa and Walter (pictured with son Oliver
and grandbaby) are good friends and
collaborators in Nueva Vida.

Many women, including Nuria, make
beautiful handiwork with naturally-dyed chambira fiber.
Chris holding an infant sloth —
both of them are are named 'Máíbàrò' in máíhìkì!
Gracias! (Spanish)
Dèìrá jà! (Máíhìkì)
Kameti! (Nanti)
Kametitake! (Matsigenka)
Jaári tíi! (Iquito)
Yuse! (Muniche)
Back to top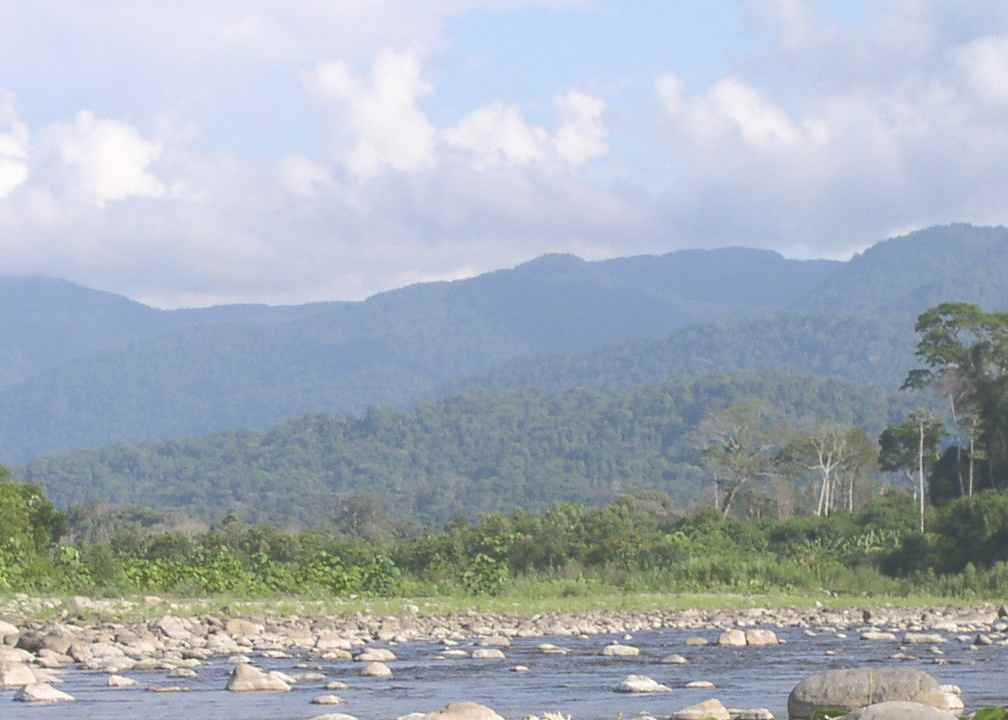 Last updated: 12 December 2013