Cabeceras Aid Project
| Haga cliq aquí para visitar nuestro sitio en castellano |
---

Last updated: September 7, 2017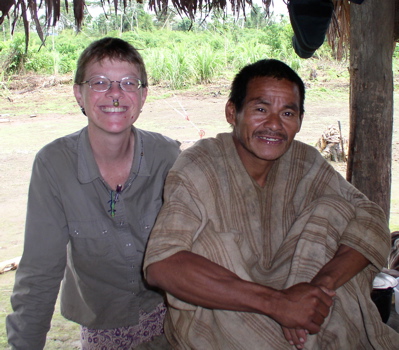 Cabeceras Aid Project is a non-profit organization founded in 1996 to provide aid and assistance to small, relatively geographically isolated indigenous communities in ways that support their well-being and autonomy as they address the challenges that result from extended contact with other societies, peoples, and languages. Our organization prioritizes community-based research and humanitarian projects that assist these communities in taking action to meet their own goals and objectives as they themselves see them.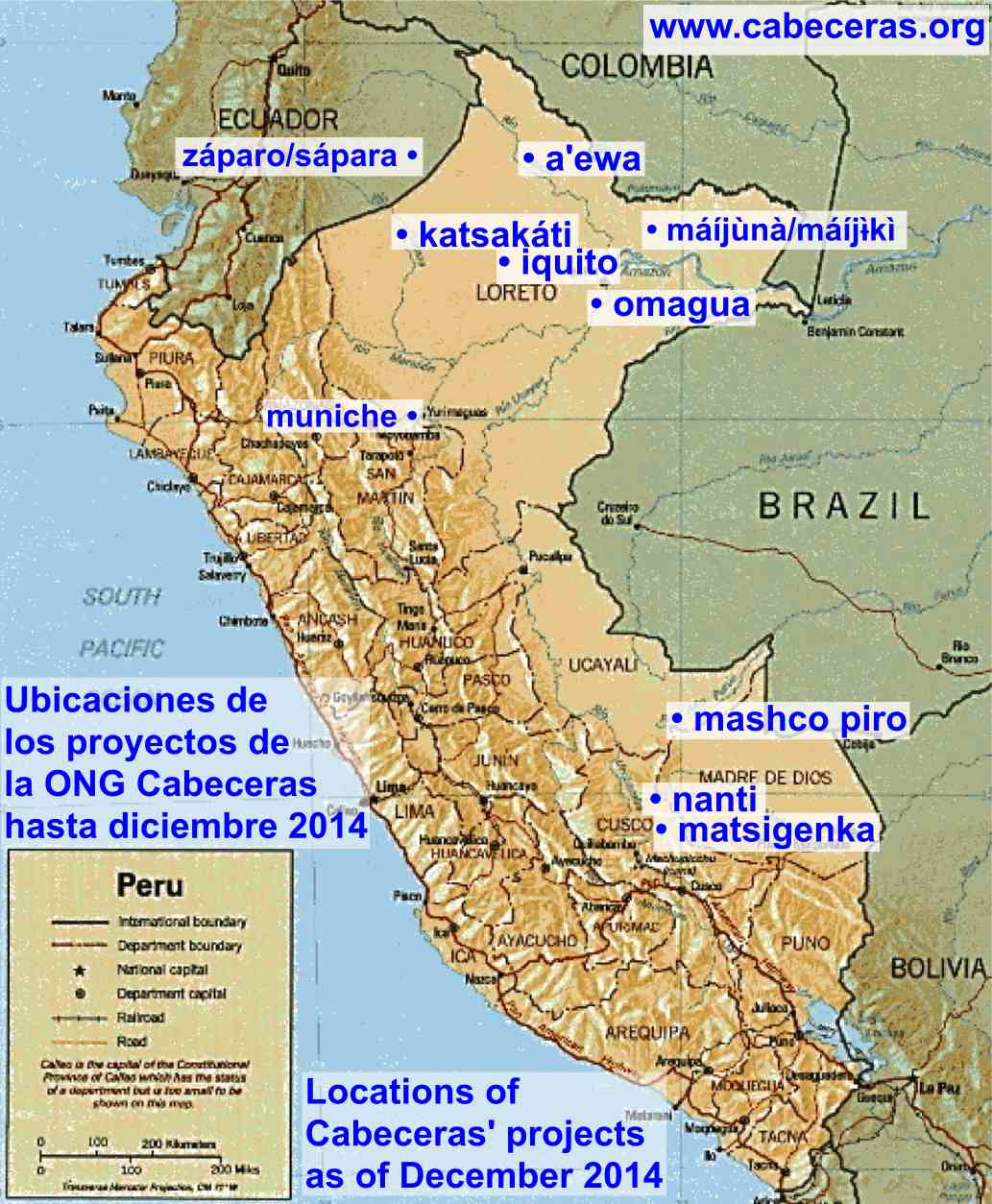 Over the years, most of Cabeceras' projects have taken place in the lowland regions of the Department of Cusco and in the Department of Loreto, Peru. Click here, or click on the map image, to see a large map of our project locations since 1996; or download this KMZ file to see them via Google Earth.


Through 2016, Cabeceras' fieldwork and advocacy will continue to focus on three core areas:

1. Our scholarship program and The Nathaniel Gerhart Memorial Scholarship Fund.

2. Documentation and revitalization of highly endangered languages.

3. Promoting the social and physical health of small indigenous groups and communities who have limited access to healthcare due to their geographical location, including groups who are experiencing initial contact with other groups or are presently living in voluntary isolation.

You'll find more information on each of these focus areas below.

In addition, in 2014, we began an institutional collaboration with the Asociacíon Kano Nete, an organization founded by a group of Shipibo educators, healers, and artisans to promote their culture, language, traditions, and social well-being; more information is available here.
---
In 2007, Cabeceras Aid Project established the Nathaniel Gerhart Memorial Scholarship Fund to support indigenous students in Peruvian Amazonia in obtaining higher education and professional training. This fund was established in memory of Nathaniel Gerhart, an ornithologist and ecologist who worked with Cabeceras in the Camisea region in 1998 and 1999, and a dear friend to Cabeceras' founders Christine Beier and Lev Michael.

Since 2008, the NGMSF has supported five students in different ways, according to their needs and capacities. At present, we are supporting two very successful students as they pursue their professional titles: Alex Rodríguez Roque and Maribel Kaibi Omenki.

Alex Rodriguez Roque received the very first NGMSF scholarship in 2008. A Bora man from the community of Pucaurquillo in Loreto, Peru, Alex studied Civil Law at the 'Universidad Los Angeles de Chimbote' in Iquitos while also working as a school teacher and supporting his family. This arduous combination of work and studies came to a successful end in the fall of 2015 when Alex obtained his professional title as an abogado (lawyer). Congratulations, Alex! His goal is to work with indigenous communities and federations to improve intercultural and bilingual education programs in Loreto, as well as to defend indigenous communities' territory rights. At present, Alex is building his professional network and looking for employment in his new field.

In 2010, Cabeceras developed a specific focus for the NGMF Scholarship program: to support young Matsigenka individuals interested in pursuing continuing education in a health profession. Because Cabeceras has carried out various field projects with Matsigenka individuals and communities over the last 15 years, including the Urubamba River Valley Medical Aid Project, we are acutely aware of the need for more Matsigenka health professionals.

Maribel Kaibi Omenki, a Matsigenka woman from the community of Koribeni, is studying Nursing at Universidad Andina in Cusco. Already a Nurse Technician with several years' professional experience working in indigenous communities, Maribel is making excellent progress in her degree program, and has both the strength of character and the maturity necessary to carry her through her studies and beyond, into further service of the Matsigenka people. It is a pleasure and an honor to support her in her work.
To make a secure online donation to the Nathaniel Gerhart Memorial Scholarship Fund, click here:



---
The Amazon Basin is among the most culturally and linguistically diverse areas on Earth. At present, there are about 300 indigenous languages spoken in the entire Amazon Basin, and at least 40 spoken in Peruvian Amazonia. Most of these languages are spoken in small indigenous communities that are spread out along the vast network of rivers that make up the Amazon Basin.

Unfortunately, this cultural and linguistic diversity is rapidly decreasing. Since the arrival of Europeans five centuries ago, the Amazon Basin has undergone profound social and linguistic changes, and a large number of indigenous cultures and languages have either nearly or completely disappeared, many without a trace. One significant cause of change has been the spread of diseases to which Amazonian peoples have no immunological resistance and which therefore have decimated or even wiped out entire groups. At the same time, a significant cause of social and linguistic change has been the tremendous social and economic pressure brought to bear on Amazonian peoples to speak the national language -- Spanish, in the Peruvian part of Amazonia.

Right now is a critical point in the history of Peruvian Amazonia. Most indigenous languages are no longer being transmitted from parents to children, and many languages have just a few elderly speakers left. Once these languages disappear, they will be gone forever. Now is a crucial time to take action, at least to document, and in some cases also to revitalize, endangered Amazonian languages.

Cabeceras Aid Project is taking action to document and revitalize indigenous languages in Peruvian Amazonia by coordinating collaborative, community-based research projects that produce practical results for the members of those communities. Our field projects bring together professional and student linguists and anthropologists, native speakers, and various other members of the heritage community of endangered languages, in order to produce written and recorded materials that will benefit future generations of speakers, while also preserving and disseminating knowledge about these cultures and languages for the benefit of all humankind.

In addition to doing basic documentation work, in all of our field projects Cabeceras also works to address some of the causes of language and culture loss in small communities, by fostering local efforts toward multilingualism, multiculturalism, and broader understandings of the value of diversity.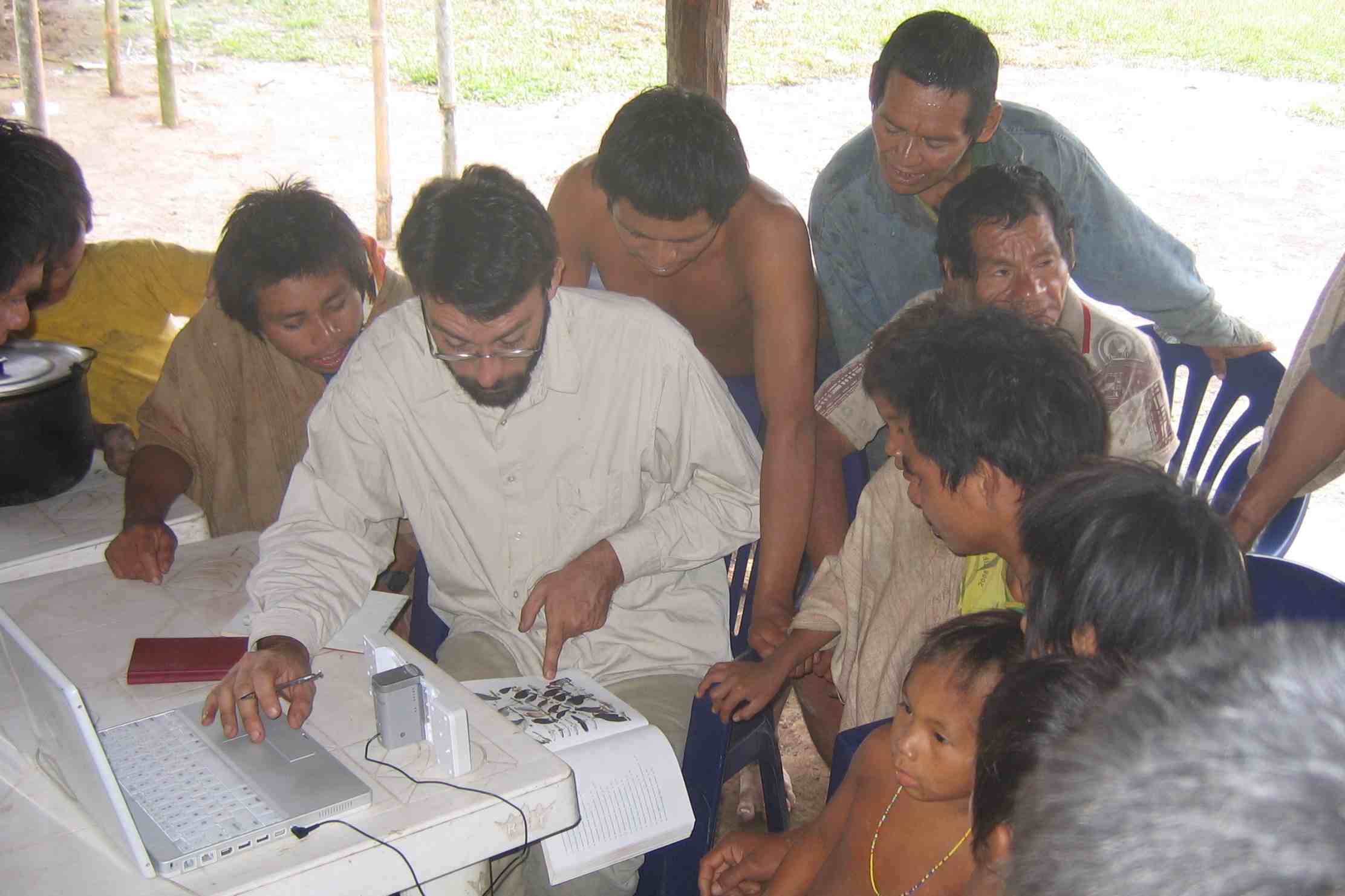 Learn more about Cabeceras' work in this area:
To make a secure online donation right now to support Cabeceras' language revitalization work, click here:



---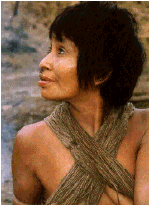 In the rainforests of Peru -- where Cabeceras Aid Project is currently active -- many small indigenous communities live in the remote cabeceras, or headwaters, of rivers that flow on to join the great Amazon River. Some of these groups are presently living in voluntary isolation, avoiding contact with the outside world, while others have only recently begun to have intermittent or sustained contact with outsiders. There are a variety of social and geographical factors that affect the rate and intensity of such 'initial contact' situations, but no matter what the current level of contact between these small indigenous communities and outsiders may be, many of these groups either have experienced or will soon experience dramatic changes and impacts resulting from their contacts with outsiders.

History shows us that the first decades of contact between small indigenous groups and other societies is often devastating for the indigenous people involved, primarily because they lack resistance to diseases that are introduced through new social contacts. In addition, small indigenous groups lack the kind of political and economic power that would allow them to easily navigate the social changes and problems posed by contact with the outside world. Thus, over the centuries and up to the present day, the outcome of contact between small indigenous communities and 'outsiders' all too often has been death, economic exploitation, and political subjugation.

Cabeceras Aid Project works to break this pattern by providing small, geographically-isolated indigenous groups with aid, in the forms of both material resources and knowledge, which will help these groups manage their interactions with the outside world in a manner that gives them greater control over their own future.

Learn more about Cabeceras' work in this area:

To make a secure online donation right now to support Cabeceras' work with peoples
in voluntary isolation and early contact, click here:



---
Bulletins and updates: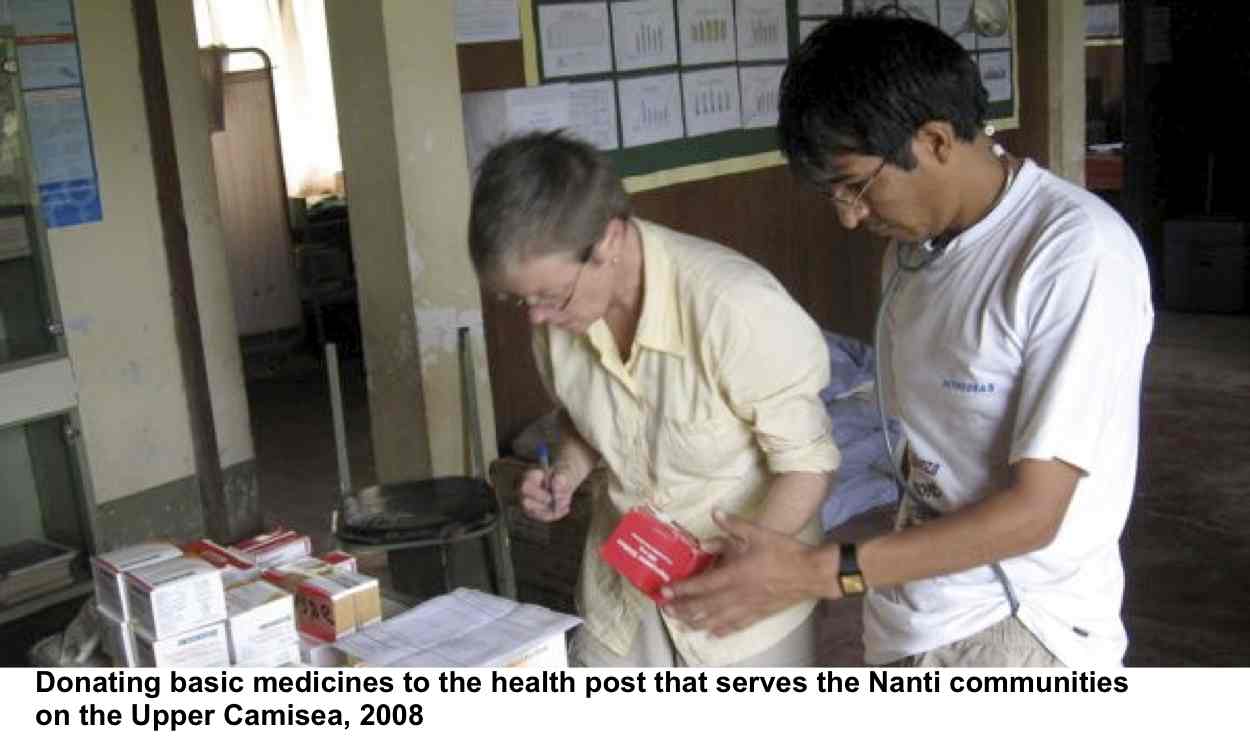 2010 to present:
2006 to 2009:
2003 to 2005:
2001 to 2002: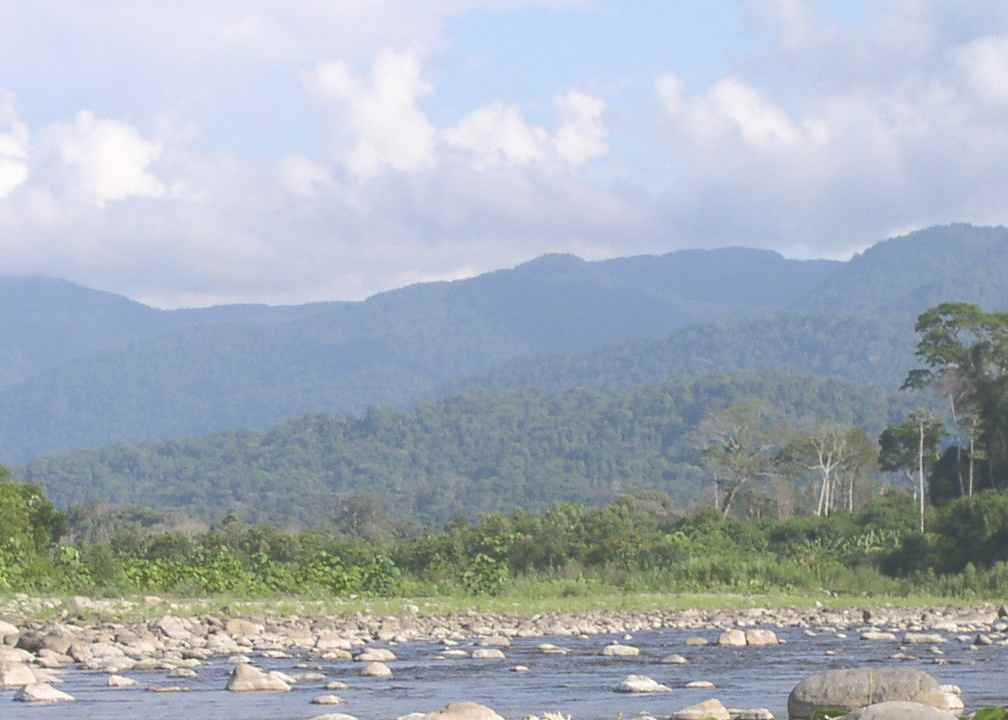 1997 to 2000: