Cabeceras Aid Project
---
Iquito/Ikíitu | Máíjiki | Muniche/Dekunawa | Andoa/Katsakáti Last updated: September 7, 2017
---
2017 | Products of the Iquito Language Documentation Project [ILDP]
| Productos del Proyecto de Recuperación del Idioma Iquito [PRII]
The ILDP has its own products page here!
El PRII tiene su propia página de productos aquí!
---
2012 | Products of the Máíhìkì Project | Productos del Proyecto Máíjìkì
Diccionario Bilingüe Máíjìkì – Castellano y Castellano – Máíjìkì: 2012 draft; borrador de 2012 (dictionary in spanish and máíjìkì; 754KB PDF)

Máíhìkì Project 2012 Modules and Text Sampler (en inglés; 5MB PDF)
Jàsògónò néèyì (Hacemos masato de yuca)
— La primera película máíjìkì, hecha en julio/agosto 2012.
— Con audio en máíjìkì y subtítulos en máíjìkì y castellano.
— En YouTube como video 'unlisted'; favor de no difundir el enlace en otros sitios.

Jàsògónò néèyì (Making yuca masato)
— The first máíhìkì movie, made July/August 2012.
— With a máíhìkì soundtrack with máíhìkì and English subtitles.
— Unlisted video on YouTube; please do not repost this link.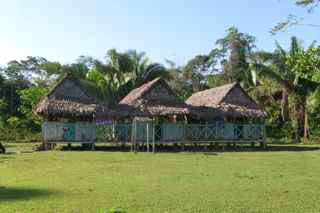 Photo album from field our 2012 field season.




---
2009 | Dekyunáwa (Muniche) language documentation | Documentación del idioma dekyunáwa (muniche)
ISO 639-3: myr


Dékyewü dekyunáwa: Vamos a hablar nuestro idioma muniche (147 Kb PDF; Sorry, current web version of this primer lacks illustrations)


Una breve descripción del idioma Muniche : a brief grammatical description | una breve descripción de la gramática (340Kb PDF)


Dekyunáwa : Un diccionario de nuestro idioma muniche : diccionario breve | a short dictionary (PDF)


---
2009 | Katsakáti (Andoa) language documentation | Documentación del idioma katsakáti (andoa)
ISO 639-3: anb


Katsakáti: El idioma antiguo del pueblo de Andoas (303 Kb PDF; Sorry, current web version of this primer lacks illustrations)